Schools and community groups
Your school or community group can play an important role in helping people stay safe on and around roads.
School sessions/workshops
The Department of Infrastructure, Planning and Logistics offers free informative and engaging presentations and workshops to:
schools
community groups
workplaces.
These sessions are tailored and aim to develop and positively influence road user behaviours and attitudes.
School sessions are based on the Safer Roads Teacher Resources which aligns with the Australian curriculum in Health and Physical Education.
Hector the Road Safety Cat is the NT's road safety mascot. His road safety show visits schools and attends special events across the Northern Territory. This is a fun and interactive way to teach children about the importance of being road aware.
The Hector the Road Safety Cat show is available for Early Learning, Pre and Primary School assemblies and runs for about 15-20 minutes. Key safety topics include:
seatbelts
bike helmets
crossing the road.
A Road Safety Community Engagement Officer will visit individual classrooms to deliver a lesson based on all or any of these topics:
passenger safety
pedestrian safety
bike safety
sensing traffic
road rules
signs and playing safely.
This program is offered in:
Darwin during school terms two and three for grades four, five and six
Alice Springs throughout the school year weather permitting.
A modified bike safety session is also available for other locations.
This program is offered in two parts:
Part 1
Theory lesson delivered at your school at least one week prior to students attending a Road Safety Centre.
Part 2
Practical lesson at the Parap Road Safety Centre in Darwin or the Newland Park Road Safety Centre in Alice Springs. This lesson will also include a short revision of Part 1.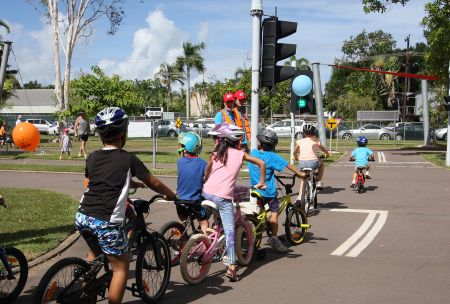 A Road Safety Community Engagement officer will visit individual classrooms or groups to deliver an engaging tailored presentation. Key topics include:
pedestrian safety
bike safety
bus travel
passenger safety.
Choices is a student workshop aimed at educating pre-learner, learner and provisional drivers at the senior school level on the issues facing young people as novice drivers and passengers. The workshop aims to positively influence students' choices as road users and reinforce important road safety behaviours and attitudes. Key topics include:
road safety statistics and facts
road crash contributing factors
the cost and consequences of crashes
road user behaviour
strategies to cope with peer pressure and other distractions
harm reduction strategies related to peer pressure, distractions, how to get home safely and reduce the risk of injury.
The workshop comprises two interactive, engaging sessions:
Session 1
A 90 minute road safety overview, discussing key road user behaviour issues and other relevant information. This is presented by Road Safety Community Engagement Officers and either a St John Ambulance Officer or Police Officer will deliver. Groups of up to 100 students can be accommodated.
Session 2
A 45-minute case study and role play workshop presented by a NT Police, Fire and Rescue Service Officer and/or a Road Safety Community Engagement Officer. Groups of up to 40 students can be accommodated.
Book a session
To book a Road Safety education session or workshop, fill in the road safety education booking form.
For more information, call 08 8924 7019.
Further information
Relevant Towards Zero Road Safety Action Plan 2018-2022 actions
| | Actions | Year | Lead | Support | Safe System |
| --- | --- | --- | --- | --- | --- |
| 1.3 | Evaluate and strengthen road safety education programs including road safety education in the school curriculum | 1 | DIPL / DOE | | Safe road use |
| 8.3 | Develop targeted strategies and initiatives to create positive road safety culture with young Territorians | 1-2 | DIPL | MACC | Safe road use |
Resources and related links